BorgWarehouse
Posted on December 5, 2022 • 3 minutes • 550 words • Other languages: Français
After a few months of intense and exciting development, I have the great pleasure to present you the free software BorgWarehouse 🥳 !
BorgWarehouse is a WebUI to manage a BorgBackup repository server.
Here is a short demonstration video :
You will find all my documentation here : borgwarehouse.com
Where does this project come from ?
I've been passionate about computers for almost 20 years now and it's also my job for over a decade. As you may have read on this blog, I am particularly interested in the world of free software. That's why I'm quite proud today to be able to contribute to the free software ecosystem by adding my own software.
Sysadmin for about ten years, I recently sold the company I was running after almost 8 years of activity. My goal in 2022 was, among other things, to train intensively in web development.
It is therefore following my training that I started the development of BorgWarehouse. This project is a pure product of my personal and professional experience because it perfectly combines the two skills I am passionate about:
system and network administration
development
What is BorgBackup ?
BorgBackup is a powerful backup software and one of the few that check so many boxes :
End-to-end encryption
Incremental backups
Differential backups
Deduplication
Compression
…
The list of advantages of BorgBackup is long and I refer you to this wiki to learn the basics.
With BorgBackup, you can back up your PC, server, virtual machine, etc. to a "repository" that is located on a (storage) server. This server can host multiple repositories. This is where BorgWarehouse comes in.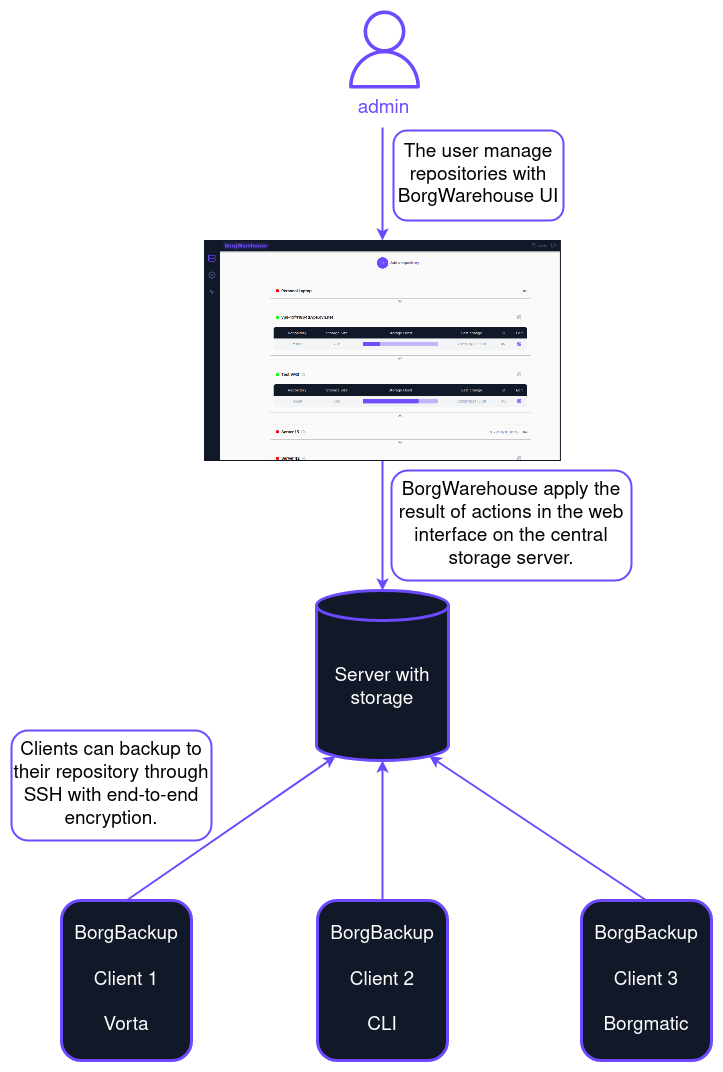 BorgWarehouse will allow you to :
add repositories
edit repositories
delete repositories
be alerted if there is no recent backup
monitor the volume
manage quotas for each repository
…
How to install BorgWarehouse ?
I don't design a software without its documentation. It's a lot of time, a lot of work, but it's beneficial for the user, the administrator, the maintainers… Everyone. That's why I not only published source code on Github but also spent a lot of time to create a documentation that you can find on borgwarehouse.com.
This documentation is not yet 100% complete, but it will soon be expanded and you will already find :
In short, you have a lot to do :)
What do I see next ?
BorgWarehouse in its v1.0 is fully functional, and it was important for me to release a v1.0 that was finished within the functional scope I had set for myself. But obviously, I have a lot of ideas for the future and I'll be working on a roadmap.
However, the next evolutions will come in a few months. As you have read at the beginning of this article, I sold my company in 2022 and for the next few weeks I will first focus on my job search. Indeed, I don't plan to recreate a company right away but rather to perfect my junior experience in web development as an employee. A nice challenge, I know.
So, there are a lot of things planned for the future and they will arrive little by little, be patient 🌱.